The ACS Accessory Clamp System features a variety of expandable multi-clamps and cymbal arms, allowing for a myriad of set-up possibilities. ACS is designed to easily position what you need, where you need it, while saving weight, time and valuable space.

Use the diagram below to assist you in selecting the parts that will suit your needs.

ACS Parts Explained:
5 - Receives 1/2" and 10.5mm Knurled Rods
6 - Receives 3/4" Tube
C - Receives 3/4" Tube
D - Receives 5/8" Tube
S - 4" to 7" Short
M - 9" to 12" Medium
L - 15" to 24" Long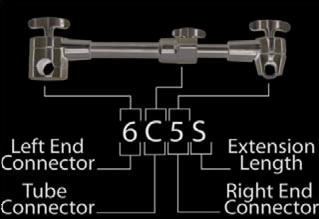 BallTilter:
Taye's unique BallTilter, equiped on several models of cymbal and snare stands, allows the player to angle a cymbal or drum in any direction with one simple adjustment.
PinlessHinge:
Strong, reliable, smooth, with a minimum of moving parts, this Taye innovation eliminates the possibility of thread stripping at the hinge, a common problem with other designs.