GoKit is designed for the professional drummer seeking high-end sound and performance in a lightweight and portable package. From small rehearsal spaces to large venues, GoKit performs well in a variety of applications, yet its scaled down dimensions make transport and set up convenient and easy every time.

Utilizing a blend of Birch and Basswood, GoKit's full-bodied tone lies in Birch's ability to provide punchy attack and in Basswood's inherent warm sustain. With Taye's patented EFS Shell Technology, these two woods are cross-laminated to provide extremely rigid shells - providing enhanced projection and longer sustain. The shells are then beautifully finished in your choice of brilliant high gloss lacquers or premium laminate.

Furthermore, GoKit comes standard with many Taye patented features, including the SlideTrack Tom Holder System, which allows for the lateral placement of toms along the depth of the bass drum for ergonomic placement.

If you are seeking full-sized sound without the weight of a traditional sized kit, you'll be refreshed to realize the benefits that only the GoKit can afford you.



Specifications:
Custom Premium Birch/Basswood Shells
Shells are 8 ply, 7mm
EFS™ Shell Technology
UB105 PocketHinge® Bracket
BC100 Articulated Claw Hook™
Brilliant Lacquer Finishes
Premium Laminate Finishes
SlideTrack Tom Holder System
SuspensionRings™ for Rack Toms
2.3mm Counterhoops


Available Component Drums:

Bass Drums:
GK1875B - 18"x7.5"

Floor Toms:
GK1411F - 14"x11"

Rack Toms:
GK1407R - 14"x7"
GK1206R - 12"x6"
GK1055R - 10"x5.5"
GK0805R - 8"x5"

Snare Drums:
GK1304S - 13"x4"


Suggested Hardware Packs:
HPG - Hardware Pack G
HPR - Hardware Pack R
HPDZ - Hardware Pack DZ



GoKit Travel Bag Set (GOPACK-3):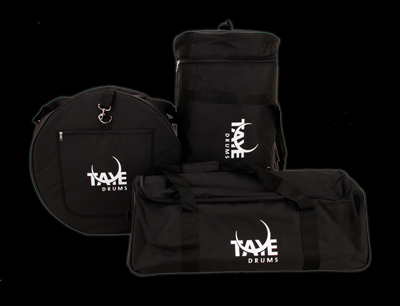 Includes:
DB1875 GoKick Bag 22x12
DB1630* GoRack Bag 16x30
DB3020 Hardware Bag 30x12x10

*Does accommodate 14"x7" or 14"x11" Add-on Toms. 14x11 or 14x7 must be loaded last, in top of bag.







EFS Shell Technology™:
Engineered For Sound. Among other innovations, Taye EFS™ utilizes cross-lamination in the shell formation process. Cross-lamination is the method of perpendicularly alternating the direction of the wood grain within the plies, providing drums with extremely rigid shells, resulting in breathtakingly broad tuning ranges.
SlideTrack®:
This patented feature allows near infinite adjustment of lateral placement for mounted toms, enabling the player to position drums to best suit any needs.
PocketHinge®:
Another Taye innovation. With no internal pressure points, PocketHinge™ effectively distributes force across a wide area of the rod to which it mounts, delivering dependable, slip-free performance.
Studded Gaskets:
Patented studded lug gaskets remove any metal-to-wood contact allowing the drum to resonate more freely, delivering optimum sonic performance in all environments.
Articulated Claw Hook™:
Virtually eliminates the need to disassemble claw hooks and tension rods from bass drums when changing heads. The Articulated Claw Hook is designed to isolate the claw from the wood hoop, preventing unwanted tonal interference in live or studio applications.
SideLatch®:
Simply designed for optimum performance, this side-action release system employs a minimum of moving parts. With a large knurled tension knob for easy snare adjustment, and our unique SlipLock feature that prevents unwanted loosening of snare tension, SideLatch™ is strong, smooth, and flawlessly reliable.
Suspension Rings™:
An industry standard, SuspensionRings™ allow mounted toms to float freely, providing optimum tone and resonance.
Springflex™ Spurs:
Taye's unique SP90 bass drum spurs not only improve bass drum resonance, the sleek design enables the player to easily position stands in and around the bass drum. Retractable spikes eliminate bass drum movement.